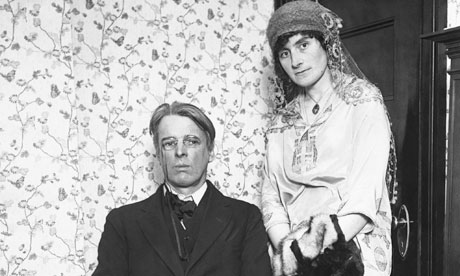 William Butler Yeats and his wife Georgie, late 1920s
The other day,
an anonymous commenter
alluded to a Yeats poem that I had not read or if I had, it was forgotten. Strange to me -- that the image of coats and capes and robes and being naked are haunting me of late -- it's all been said before, but there's something comforting about poetry buried deep in the unconscious peering out through my same eyes.
A Coat
I made my song a coat
Covered with embroideries
Out of old mythologies
From heel to throat:
But the fools caught it,
Wore it in the world's eyes
As though they'd wrought it.
Song, let them take it,
For there's more enterprise
In walking naked.
William Butler Yeats