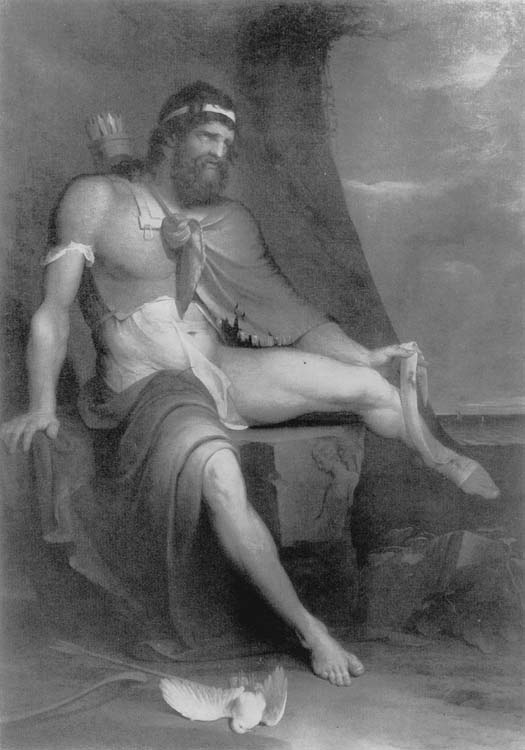 Philoctetes, by James Barry
Human beings suffer,
They torture one another,
They get hurt and get hard.
No poem or play or song
Can fully right a wrong
Inflicted and endured.
The innocent in gaols
Beat on their bars together.
A hunger-striker's father
Stands in the graveyard dumb.
The police widow in veils
Faints at the funeral home.
History says,
Don't hope
On this side of the grave.
But then, once in a lifetime
The longed-for tidal wave
Of justice can rise up,
And hope and history rhyme.
So hope for a great sea-change
On the far side of revenge.
Believe that a further shore
Is reachable from here.
Believe in miracles
And cures and healing wells.
Call miracle self-healing:
The utter, self-revealing
Double-take of feeling.
If there's fire on the mountain
Or lightning and storm
And a god speaks from the sky
That means someone is hearing
The outcry and the birth-cry
Of new life at its term.
It means once in a lifetime
That justice can rise up
And hope and history rhyme.
from
The Cure at Troy
by Seamus Heaney
The Cure at Troy
is Heaney's version of Sophocles' play
Philoctetes
, a Greek hero who was left wounded by the Greeks on an island where he was forgotten about until the final stage of the Siege of Troy. Philoctetes owns an invincible bow that the Greeks need to win the Trojan War, so they are forced to return to the island and ask for Philoctetes's support.
The back of my copy of the book says this about Heaney's work:
Heaney's reading of Philoctetes is particularly responsive to the Greek playwright's understanding of the relations between public and private morality. "The Cure at Troy" dramatizes the conflict between personal integrity and political expediency, and it further explores ways in which the victims of injustice can become as devoted to the contemplation of their wounds as the perpetrators are to the justifications of their system.
I've read this part of this poem over and over during the last twenty years, and each time it speaks to me in a different way. During my first reading, the third and fourth stanzas leaped up and out, resonating with me as I began my arduous journey with Sophie --
Believe in miracles/ and cures and healing wells --
then those perfectly beautiful rhymed
Call miracle self-healing:/The utter, self-revealing/Double-take of feeling.
What's so fantastic about poetry, and this piece especially, is how it speaks to both one's private experience and to the larger culture. I am sure that we
read into
the words, taking what we want or wish or understand -- at least in our own very personal lives -- but I also think the poetry speaks strongly to our current political climate, doesn't it? Wouldn't it be amazing if our political leaders would stop talking about family values, money, American exceptionalism and all that bullshit and, rather, listen to a poet like Heaney who is able to articulate what it means to be human, to be working towards a common good, to be rhyming hope and history and justice?
(Yeah, I know. My head is in the clouds and I'm flying my poetry freak flag over here.)