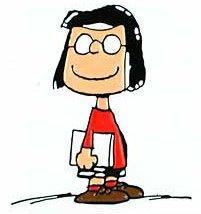 Marcie, my alter ego
So, I'm sort of embarrassed that I posted a video on my blog that was apparently viral well before I saw it. It reminds me of the time during the summer of 1985, when I was not quite 22, and I mentioned to a dear friend of mine that I loved that song where all the stars sang
We are the World
and had she heard it? Julia? Do you read this blog? Are you there to corroborate the darker bits of my history?
Once a bit of a geek, always a bit of a geek.
Today I took Sophie for her twice-yearly trip to The Neurologist. I love this neurologist, both personally and professionally. She tolerates my dark sense of humor and my forays into the World of Alternative Medicine. Today's visit included a bit of an interesting exchange about medical marijuana. While she can't write a prescription (and I have yet to pay a visit to Dr. Bullwinkle to get my card), she knows of several families who are using it and reporting good things. One of them is a young person with severe cerebral palsy who never sleeps. Now he does. She told me to go for it. We also talked about the Trigeminal Nerve Stimulation System or "epilepsy patch." The patch is a gel electrode that is worn on the forehead for twelve hours a day. Given that it's not invasive and has some compelling success stories, I'm looking into it. One of the lead researchers happens to be a neurologist at UCLA, so even though I like going to the neurology department at UCLA about as much as I like listening to a Catholic priest condemning homosexuality and abortion, we're getting a referral. If you want to read more about the
Trigeminal Nerve Stimulation System, go here.
In the meantime, I'm imagining Sophie taking medical marijuana with the gel patch on her forehead while I read War and Peace and prancercise.