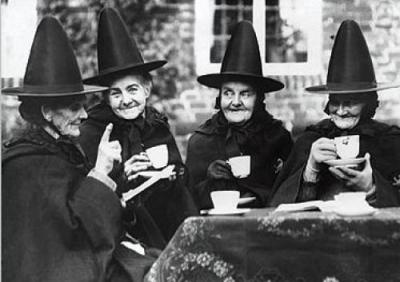 What I'm thinking about today is the onset of crone-dom and not in a jokey, silly sort of way, except that there are plenty of crones out there who will probably chuckle softly to themselves that I would deign to believe myself a crone at the tender age of fifty. I feel it approaching, though -- cronedom -- and I feel it as a lassitude and resignation, a comfortable giving-up and giving-in, a sardonic eye tilt and thinning lip, an exasperated descent into temporary insanity, a skill in holding ridiculous paradox, a desire to live and to be done with it, a quickening pulse, a pull between the legs, fullness drooping, a chopped off finger wag, abstraction made concrete.
Crone talk over tea (from left to right):
Watching a child seize, day after day after day after day for years on end imposes a sort of discipline. You can actually live like that.
I dare you,
to do what I've done and feel any other way.
Barn's burnt down,
Now I can see the moon.
Red lips, black hair -- they disappeared, but I taste them both, dearie.